---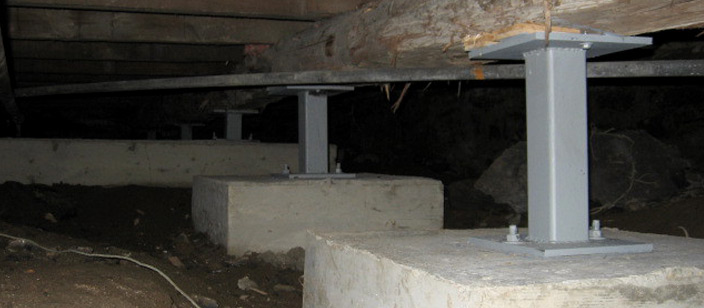 Structure Replacement or Reinforcement in Montreal
For more than 20 years, Construction K2 has been offering professional services for structure replacement, repair and reinforcement in Montreal. The interior structure of your house consists mainly of beams and joists, which transfer the weight of the building to the soil via columns.
Structural issues or damage caused by humidity are the principal reasons for carrying out work to strengthen the structure of a building. In addition, you can also undertake structural work to raise up your building in order to
excavate your basement
and create a living basement space.
Structural Problems
Over time, damaged or rotting beams and joists can threaten the structural integrity of your house and cause significant problems like deformation of floors and the appearance of mould or fissures in your walls or ceilings.
Generally, this damage is caused by humidity being present in your basement. This means that, in certain cases, the repair your house's structure must be carried out jointly with the
repair of its foundation
.
« Construction K2 had the best price. Even one of their competitors didn't think it possible to complete the work at this price. »

Philip, Montréal
Building Structure Reinforcement
Certain projects also allow you to solidify your structure or enhance or enlarge your interior living space through the use of beams, columns and steel beam reinforcements. In addition to reinforcing the structure of your house, this type of renovation can also significantly increase its value.
Maintaining the structural integrity of your home is one of the best ways to protect your investment and ensure your family's safety.
Construction K2 offers all the home foundation repair and structural work expertise to bring to rapid and successful completion all your renovation projects or house structure repairs in Montreal. Our objective is to offer simply the best in terms of quality!
Owner benefiting from over 20 years' experience
Certified and accredited employees
We visit you on-site to evaluate your structural problem