---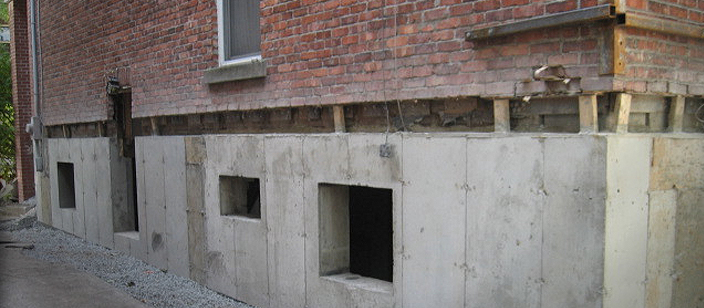 Foundation Replacement or Reinforcement in Montreal
The lifespan of a foundation varies from house to house, depending on the quality of concrete used. The first symptoms of a damaged foundation are the appearance of foundation cracks, degradation of the concrete in the foundation walls, the appearance of efflorescence and peeling and crumbling plaster.
In the Montreal region, many home owners are faced with foundation-related problems due to the mediocre quality of concrete used.
Service
As experienced foundation contractors, the team at Construction K2 will evaluate the foundation repairs needed on-site, and determine the best procedure for replacing, reinforcing or repairing your foundation. We then take the time to explain to you in detail every step of the basement foundation repair work to be carried out.
The good condition of your home's foundation is essential to ensure the safety of your family and to maintain the proper condition of the frame of your house. When a foundation crack or signs of humidity appear, or when the concrete deteriorates, don't delay: contact us at Construction K2, the experts in foundation repair in Montreal.
« K2 worked with the overriding goal of satisfying the client, by respecting our constraints and answering all of our questions professionally, during and after the work. We are fully satisfied with our choice. »

Jp and Gen, Hochelaga-Maisonneuve, Montreal
Procedure
Foundation replacement is carried out in several steps:
Excavation and removal of material from along the existing foundation walls.


Once the stone or concrete wall is broken up, demolished and removed in sections, steel columns are installed as temporary supports.


Once the damaged or cracked foundation has been removed and the building is properly supported, we move ahead with installing a form and pouring concrete into a new footing, which will serve as the main support for the new reinforced concrete wall.


Form panels are put into place, as well as the reinforcing steel and the window openings. Once all this is completed, the concrete is pumped into place.


After the forms of the new foundation walls are stripped, waterproof mortar or Delta-MS membrane is applied on the walls.


Installation of a French drain equipped with a geotextile membrane.


The next step, that of backfill, is one of the most crucial to ensure proper foundation waterproofing and a quality end-product. This is why Construction K2 inc. uses 3/4 crushed stone to backfill the large majority of its trenches in order to ensure perfect drainage of water towards the French drain and thus help eliminate humidity in your basement.
Take note that all our foundation reinforcement, repair and replacement projects begin with an on-site visit from our certified engineer, and the creation of plans and estimates that meet construction standards.
Specialists in foundations for over 20 years
We come on-site to evaluate your foundation problem
Enhance the value of your property
Durable and guaranteed solution