---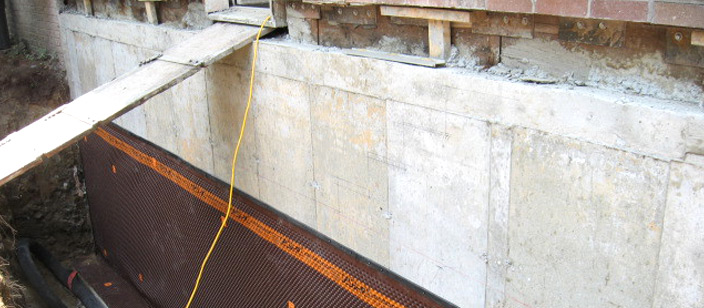 Foundation Waterproofing in Montreal
Construction K2 have been your experts in foundation waterproofing in Montreal for more than 20 years. Thanks to our rock-solid expertise in foundations and foundation wall waterproofing materials and to our drainage techniques, your basement will remain always dry.
As experienced waterproofing contractors in Montreal, we make sure you avoid any unfortunate water infiltration or high levels of humidity, which constitute the main causes of mould in homes.
Waterproofing
Whether it's following
basement excavation
work, foundation leak or foundation crack repair or any other
foundation repair
work, the watertightness of your foundation is essential to ensuring its durability.
Waterproofing is done in several steps:
Excavation of the soil around your foundation.

Inspection of the area to ensure it is free of house foundation cracks or fissures.

Application of a waterproof coating on the foundation walls as a first element.

Installation of a waterproof membrane on the concrete walls.

In protecting against water and humidity infiltration and thus waterproofing foundation walls, this membrane helps prevent your foundation from crumbling.
« Excellent customer service and speed of execution, at a very competitive price. »

Stéphane Roussin
Triplex owner in the Rosemont district, Montreal
The DELTA®-MS Membrane
The DELTA®-MS foundation waterproofing membrane is a proven waterproofing system, designed to fix any foundation leaking problem. Acting like a bridge, this membrane with unique geometry creates an air vacuum along the wall and keeps soil humidity away from the foundation wall, thus keeping the underfloor permanently dry.
Drain Installation
Drainage allows for the removal of water from around the foundation, thus protecting the waterproofing membrane and preventing water from infiltrating the foundations. The French drain is installed at the foot of the foundation under the level of the concrete slab, and it is then covered by 3/4 stone in order to optimize its effectiveness.
With Construction K2, your foundation leak repair work is always carried out to meet the highest quality standards, and is backed by a team of qualified technicians.
Contact us online
or by phone at 514 587-2656 for more information about our services for foundation waterproofing in Montreal.
20 years' experience in foundation wall waterproofing in Montreal
Certified and accredited employees
Certified for installation of the Delta®-MS membrane