---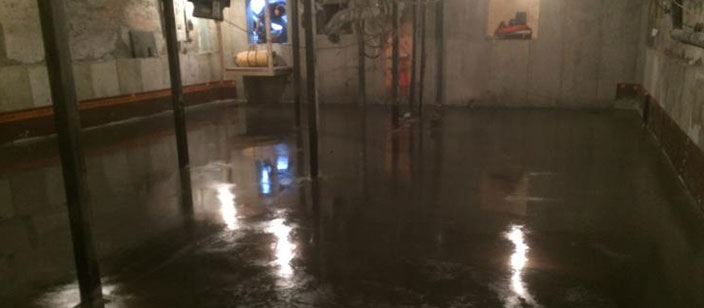 14 Apr, 2017
Excavation, Services
BASEMENT EXCAVATION
Specialists in basement excavation for homes, duplexes and multiplexes in Montreal.
Service
Construction K2 benefits from more than 20 years of experience in basement excavation in Montreal. We specialize in duplexes and multiplexes located in the narrow streets of Montreal. Our expertise allows us to carry out basement foundation and basement waterproofing projects in tight spaces while maintaining full respect for building occupants.
Excavations of basements are completed within 4 weeks on average, and building occupants can remain in place all during the project. We have all the equipment designed to be deployed in small areas, and it is always manned by qualified workers experienced in building foundation work.
« K2 delivered the merchandise to our entire satisfaction, almost one week ahead of schedule, and without going over budget. »

Yvan Guay, Rosemont, Montreal
Advantage
Basement excavation allows you to enlarge your home by adding another storey to it, all while strengthening and cleaning up your house foundation and waterproofing your foundation. Your home will gain in value in addition to providing you with more space.
Team
Construction K2 has built its rock-solid reputation thanks to its team of accredited and certified carpenters and labourers. All plans for our projects are prepared by highly reputed and qualified structural engineers.
Procedure
To begin with, a structural engineer produces the plans and estimate required for the basement excavation project. Two procedures can be used for the excavation of your basement.
Underpinning, consisting of extending the foundations downwards by adding concrete beneath your existing foundations.

This work is generally carried out on foundation walls that are in very good condition.

Fully replacing the existing foundation walls (with the exception of common walls) with new reinforced concrete walls featuring new footings.

This second type of procedure allows for the installation of an exterior French drain and a waterproofing membrane, as well as offering the advantage of creating larger window openings and thus more light.
The interior of the building will then be excavated to the needed depth in order to set the new concrete footings, which will support the new steel columns; these in turn will support the existing centre girder of your building. Note that this girder can be replaced if it is damaged or in order to reduce the number of columns to allow for more options when planning your new living space.
Lastly, a 4-inch thick concrete slab will be installed on a 3/4 crushed-stone bed equipped with a vapour barrier and a metallic trellis. The concrete slab can be heated through the use of tubes, and a polished finish allows for it to remain visible or the option of covering it with a ceramic or wood plank finish.
Our services for basement excavation in Montreal allow you to benefit fully from the space available in your building!
*Details concerning these steps are outlined in the estimate you will receive.
Over 20 years' experience in residential and commercial basement excavation in Montreal
All equipment needed to work in tight areas
Plans approved by qualified structural engineers
A rock-solid reputation earned through honest, courteous service and exceptional dependability
Live Preview
English
---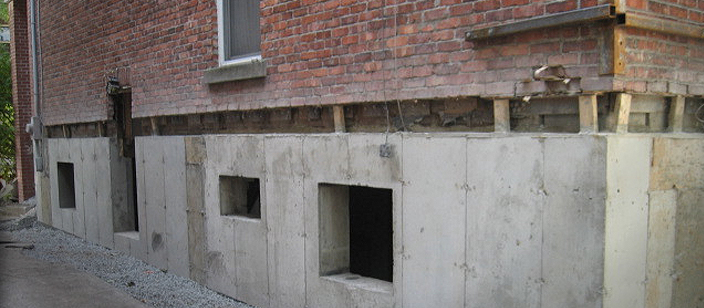 13 Apr, 2017
Fondation, Services
Foundation Replacement or Reinforcement in Montreal
The lifespan of a foundation varies from house to house, depending on the quality of concrete used. The first symptoms of a damaged foundation are the appearance of foundation cracks, degradation of the concrete in the foundation walls, the appearance of efflorescence and peeling and crumbling plaster.
In the Montreal region, many home owners are faced with foundation-related problems due to the mediocre quality of concrete used.
Service
As experienced foundation contractors, the team at Construction K2 will evaluate the foundation repairs needed on-site, and determine the best procedure for replacing, reinforcing or repairing your foundation. We then take the time to explain to you in detail every step of the basement foundation repair work to be carried out.
The good condition of your home's foundation is essential to ensure the safety of your family and to maintain the proper condition of the frame of your house. When a foundation crack or signs of humidity appear, or when the concrete deteriorates, don't delay: contact us at Construction K2, the experts in foundation repair in Montreal.
« K2 worked with the overriding goal of satisfying the client, by respecting our constraints and answering all of our questions professionally, during and after the work. We are fully satisfied with our choice. »

Jp and Gen, Hochelaga-Maisonneuve, Montreal
Procedure
Foundation replacement is carried out in several steps:
Excavation and removal of material from along the existing foundation walls.


Once the stone or concrete wall is broken up, demolished and removed in sections, steel columns are installed as temporary supports.


Once the damaged or cracked foundation has been removed and the building is properly supported, we move ahead with installing a form and pouring concrete into a new footing, which will serve as the main support for the new reinforced concrete wall.


Form panels are put into place, as well as the reinforcing steel and the window openings. Once all this is completed, the concrete is pumped into place.


After the forms of the new foundation walls are stripped, waterproof mortar or Delta-MS membrane is applied on the walls.


Installation of a French drain equipped with a geotextile membrane.


The next step, that of backfill, is one of the most crucial to ensure proper foundation waterproofing and a quality end-product. This is why Construction K2 inc. uses 3/4 crushed stone to backfill the large majority of its trenches in order to ensure perfect drainage of water towards the French drain and thus help eliminate humidity in your basement.
Take note that all our foundation reinforcement, repair and replacement projects begin with an on-site visit from our certified engineer, and the creation of plans and estimates that meet construction standards.
Specialists in foundations for over 20 years
We come on-site to evaluate your foundation problem
Enhance the value of your property
Durable and guaranteed solution
English
---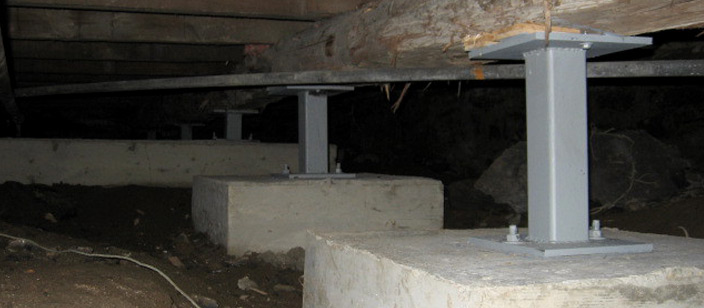 12 Apr, 2017
Services, Structure
Structure Replacement or Reinforcement in Montreal
For more than 20 years, Construction K2 has been offering professional services for structure replacement, repair and reinforcement in Montreal. The interior structure of your house consists mainly of beams and joists, which transfer the weight of the building to the soil via columns.
Structural issues or damage caused by humidity are the principal reasons for carrying out work to strengthen the structure of a building. In addition, you can also undertake structural work to raise up your building in order to
excavate your basement
and create a living basement space.
Structural Problems
Over time, damaged or rotting beams and joists can threaten the structural integrity of your house and cause significant problems like deformation of floors and the appearance of mould or fissures in your walls or ceilings.
Generally, this damage is caused by humidity being present in your basement. This means that, in certain cases, the repair your house's structure must be carried out jointly with the
repair of its foundation
.
« Construction K2 had the best price. Even one of their competitors didn't think it possible to complete the work at this price. »

Philip, Montréal
Building Structure Reinforcement
Certain projects also allow you to solidify your structure or enhance or enlarge your interior living space through the use of beams, columns and steel beam reinforcements. In addition to reinforcing the structure of your house, this type of renovation can also significantly increase its value.
Maintaining the structural integrity of your home is one of the best ways to protect your investment and ensure your family's safety.
Construction K2 offers all the home foundation repair and structural work expertise to bring to rapid and successful completion all your renovation projects or house structure repairs in Montreal. Our objective is to offer simply the best in terms of quality!
Owner benefiting from over 20 years' experience
Certified and accredited employees
We visit you on-site to evaluate your structural problem
Live Preview
English
---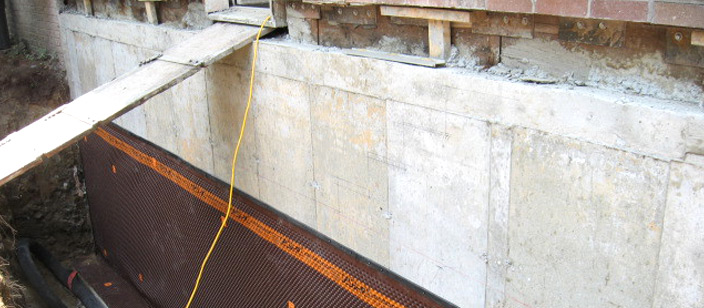 11 Apr, 2017
Imperméabilisation, Services
Foundation Waterproofing in Montreal
Construction K2 have been your experts in foundation waterproofing in Montreal for more than 20 years. Thanks to our rock-solid expertise in foundations and foundation wall waterproofing materials and to our drainage techniques, your basement will remain always dry.
As experienced waterproofing contractors in Montreal, we make sure you avoid any unfortunate water infiltration or high levels of humidity, which constitute the main causes of mould in homes.
Waterproofing
Whether it's following
basement excavation
work, foundation leak or foundation crack repair or any other
foundation repair
work, the watertightness of your foundation is essential to ensuring its durability.
Waterproofing is done in several steps:
Excavation of the soil around your foundation.

Inspection of the area to ensure it is free of house foundation cracks or fissures.

Application of a waterproof coating on the foundation walls as a first element.

Installation of a waterproof membrane on the concrete walls.

In protecting against water and humidity infiltration and thus waterproofing foundation walls, this membrane helps prevent your foundation from crumbling.
« Excellent customer service and speed of execution, at a very competitive price. »

Stéphane Roussin
Triplex owner in the Rosemont district, Montreal
The DELTA®-MS Membrane
The DELTA®-MS foundation waterproofing membrane is a proven waterproofing system, designed to fix any foundation leaking problem. Acting like a bridge, this membrane with unique geometry creates an air vacuum along the wall and keeps soil humidity away from the foundation wall, thus keeping the underfloor permanently dry.
Drain Installation
Drainage allows for the removal of water from around the foundation, thus protecting the waterproofing membrane and preventing water from infiltrating the foundations. The French drain is installed at the foot of the foundation under the level of the concrete slab, and it is then covered by 3/4 stone in order to optimize its effectiveness.
With Construction K2, your foundation leak repair work is always carried out to meet the highest quality standards, and is backed by a team of qualified technicians.
Contact us online
or by phone at 514 587-2656 for more information about our services for foundation waterproofing in Montreal.
20 years' experience in foundation wall waterproofing in Montreal
Certified and accredited employees
Certified for installation of the Delta®-MS membrane
English